RETAIL SIGN CARDS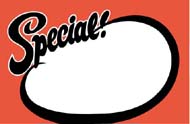 Dimensions: 3.5" h x 5.5" w$6.75 per packDimensions: 5.5" h x 7" w$11.95 per packDimensions: 7" h x 11" w$19.95 per pack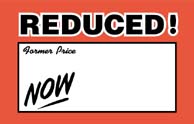 Dimensions: 3.5" h x 5.5" w#5403108 $8.45 per pack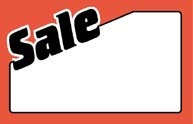 Dimensions: 3.5" h x 5.5" w#5413204 $8.45 per packDimensions: 5.5" h x 7" w#5404127 $12.00 per pack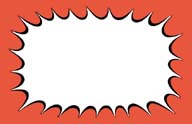 Dimensions: 3.5" h x 5.5" w#5403138 $8.45 per packDimensions: 5.5" h x 7" w#5404138 $12.00 per pack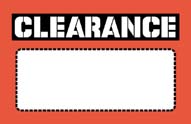 Dimensions: 3.5" h x 5.5" w$8.45 per packDimensions: 5.5" h x 7" w$12.00 per packVertical: $19.95 per packDimensions: 11" w x 7" h Horizontal: $19.95 per packDimensions: 7" h x 11" w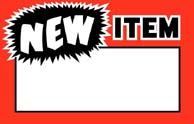 Dimensions: 3.5" h x 5.5" w#5403157 $8.45 per packDimensions: 5.5" h x 7" w#5404157 $12.00 per pack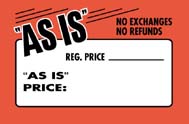 Dimensions: 3.5" h x 5.5" w#5403172 $8.45 per packDimensions: 5.5" h x 7" w#5404172 $12.00 per pack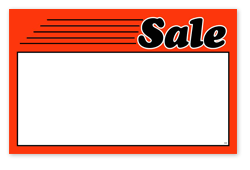 "Sale"Orange with Black Border and Horizontal LinesSold in packages of 100 count #5402300 3.5" x 5.5" $9.50 per pack#5402301 5.5" x 5.5"$13.95 per pack#5402302 7" x 11"$20.25 per pack New! Speckle Paint SwishSophisticated sign cards with colorful swatch with your message on a white background.3" x 5" #500 Special#500 Price Drop#500 New Item#500 Sale $7.95 per pack of 100 cards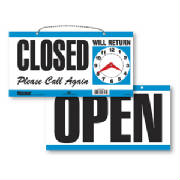 Business - Open/Closed Sign with ClockDouble sidedDimensions: 11.5" w x 6" h#5311102$9.95 each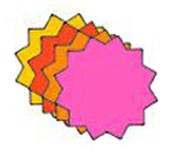 Fluorescent Die Cut Starburst Round Sign CardsEach package contains a rainbow assortment offour colors per 100 count pack #5402238 - 2.25" Diameter
$6.50 per pack# - 3" Diameter $6.75 per pack
#5402239 - 4" Diameter $9.95 per pack
#5402138 -5.5" Diameter: $12.25 per pack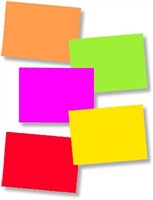 Fluorescent "Rainbow" Square Cut Sign Cards♦Also, in stock - 100 per packDimensions: 5.5" x 7"$11.25 per packDimensions: 7" x 11" $20.50 per packFluorescent "Solar Burst Rainbow" Square Cut Sign CardsDimensions: 5.5" w x 3.5" h$6.50 per packDimensions: 9" w x 6" h$19.50 per packDimensions: 11" w x 7" h$27.75 per pack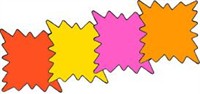 Fluorescent Die Cut Square Sign CardsEach package contains a rainbow assortment offour colors per 100 count package. # 4" x 4" $9.95 per pack# 5" x 5"$11.50 per pack# 8" x 8"$24.50 per pack
Dry Erase Sandwich Board
White heavy duty molded plastic board; two sided; legs can be filled with sand or water for stability.
Dimensions Overall: 25" w x 45" h
# $172.95 each
Liquid Chalk Markers
Use on glass or dry erase boards. Eight colors per package.
#800 $16.95 per pack
Plastic Pennant Strings
Attract attention to your business or event with colorful flag pennants on 60 ft. strings.
Black and White Check Square
#52600608 $23.95 each
American Flag Square
#5260609 $28.95 each
Red, White, Blue Triangle
#52608162 $19.95 each
Multicolor Triangle
#5260816 $19.95 each




Business Hours Sign(Shown Red-White for an example)Note: Black-White in stock Dimensions: 8" w x 12" h#5302650 $3.95 each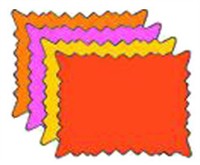 Florescent Die Cut Starburst Rectangular Sign CardsEach package contains a rainbow assortment of four colors per 100 count package. #5402338 2" x 3" $6.50 per pack#5403338 3" x 5" $7.95 per pack#5404338 5" x 7" $14.75 per pack#5405338 7" x 11" $22.95 per pack Soft and Sophisticated Sign Cards Contemporary colors with a variety of headings to attract your customers.All are 3.5" x 5.5" and come 100 per package. $ 6.95 per package.
#5404200 Sale#5404201 Red Hot Price#5404202 New Item#5404203 As Advertised#5404204 Special#5404205 Manager's Special#5404206 Organic#5404207 Gluten Free Bottle Sign CardsAdd product information and prices to your wine, liquor, juices and water displays. These oval cards slip over the neck of the bottle to attract your customers.Each package comes in rainbow colors, 100 cards to a package.#5402260 $13.25 per package Catch of the Day Sign CardsPerfect for Alaskan products--particularly of the seafood variety!Shaped like a fish, imprinted with "catch of the day" across the top, these cards are sized at 4.75" x 7.75" and come in a rainbow pack of 100.#5402250 $17.25 per package Arrow Sign Cards
Two sided bright arrow shaped cards carry your message to your customers.Use with Dual Action Sign Holders to attach the arrow cards to the edge of your metal shelves. 100 per package $14.50 per package. #500 Special#500 New Low Price#500 Everyday Low Price#500 New Item Welcome To Alaska Banner Photo of mountains with "Welcome To Alaska" imprint on vinyl banner with grommets for hanging.Welcome our tourists with a friendly greeting!Dimensions:20" h x 35.5" wide#500 $39.95 ea "Sale" BannerRed background with white lettering; vinyl with grommets for hanging.Dimensions:22" x 46" #500 $41.95



LED Message Signs Bright, colorful, animated signs for indoors
19" x 10" #800 "Open" Horizontal--Oval $49.95#800 "Open" Vertical--Rectangle $49.95







OUTDOOR VINYL BANNERSColorful banners with grommets
3' high x 8' wide#5200015 BIG SALE $79.95 3' high x 10' wide $89.95